Top International Fashion News of the Week
From Willow Smith as the new face for Chanel to Salvatore Ferragamo fitting its shoes and bags with microchips, these are the top international fashion news stories of the week.
Persone
Bernie Sanders, Donald Trump, Hillary Clinton, Karl Lagerfeld, Lucas Ossendrijver, Following, Karl Lagerfeld Supports, Kristen Stewart, Salvatore Ferragamo
Luoghi
Parigi, Stati Uniti d'America
Organizzazioni
International Fashion News of the Week
15/mar/2016 03:11:25 myways Contatta l'autore
Questo comunicato è stato pubblicato più di 1 anno fa. Le informazioni su questa pagina potrebbero non essere attendibili.
From Willow Smith as the new face for Chanel to Salvatore Ferragamo fitting its shoes and bags with microchips, these are the top international fashion news stories of the week.
Chanel Names Willow Smith as its Newest Ambassador
Willow Smith has been announced as Chanel's newest ambassador. The announcement came just after Chanel's Fall 2016 show for which Smith sat front row with her mother, Jada Pinkett Smith. The multi-talented singer and teen "It" girl, joins the likes of other celebrities, including Lily-Rose Depp and Kristen Stewart, in being an ambassador for the luxury label. The 15 year-old's duties in her new role will include attending Chanel shows and rocking Chanel outfits.
Smith took to Instagram to share her delight at being chosen for the position, posting a photograph of herself and Karl Lagerfeld at the Chanel show. The photo caption read; "Thank you Karl Lagerfeld and the entire team at Chanel for expanding the perceptions of "beauty" by picking me to be the new Chanel ambassador. I am honoured."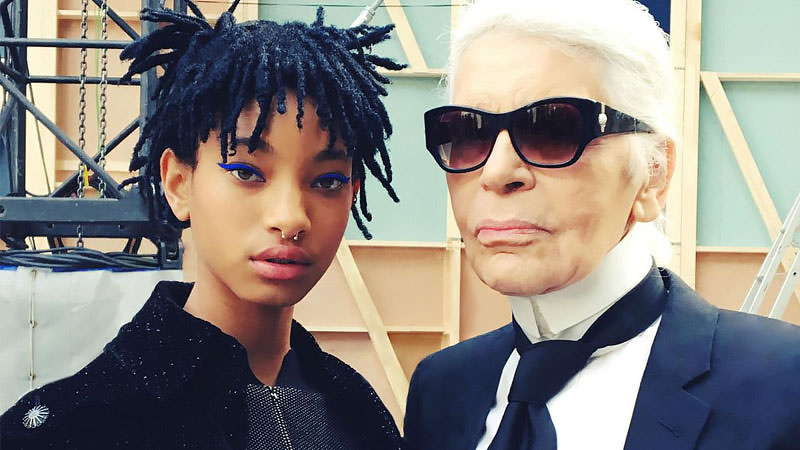 Ferragamo to Battle Counterfeits with Microchips
Salvatore Ferragamo is intensifying its campaign to put a stop to counterfeits by using microchips. The Italian luxury brand plans to place the microchips inside the heels of its shoes and lining of its bags in order to make its products identifiable against fakes without changing the aesthetics.
The microchips will also have a secondary purpose however, helping resale value. The brand believes that if sellers can prove that they are selling genuine Ferragamo products that the resale price will jump significantly. This in turn should also increase the original value of the product.
In light of potential privacy backlash, Ferragamo wants to reassure customers that the microchips will only be able to be read by a distance of about 4cm, meaning that buyers cannot be tracked.
Related: black bridesmaid dresses uk
Lanvin Confirms Bouchra Jarrar as its New Womenswear Designer
Following a week's worth of rumours, Lanvin has confirmed that Bouchra Jarrar will indeed be its new designer. Jarrar has been named as the artistic director of women's collections and will begin her new role immediately. Her first collection for the French fashion house will be for spring/summer 2017.
"It is a huge honour to continue promoting the Lanvin style, with designs created in the company's ateliers by teams who possess extraordinary expertise. Joining Lanvin meets a desire to expend my creation to wider fields of expression. It is my intention to bring to Lanvin the harmony and consistency of a fashion designed for women, a fashion of our time," said Jarrar of her new appointment.
For the past six years Jarrar has been designing for her own eponymous couture label and before that, honed her skills at Lacroix and Balenciaga.
At Lanvin, Jarrar will follow in the footsteps of Alber Elbaz, who suddenly parted from the label last October. As for menswear, which Elbaz also oversaw, it looks likely that Lanvin Homme designer, Lucas Ossendrijver will assume sole responsibility.
Karl Lagerfeld Supports Hillary Clinton for U.S. President
It seems that the U.S. presidential race is captivating everyone around the world, including legendary designer, Karl Lagerfeld. Despite being unable to vote, Lagerfeld has revealed that he is in support of Hillary Clinton for the top job.
Following this week's Chanel Fall 2016 show in Paris, Lagerfeld voiced his endorsement of Clinton.
"I think with the first black president, what they need now is the first woman president. That has to change too."
Clearly not impressed by Clinton's main rivals, Donald Trump and Bernie Sanders, Lagerfeld added wryly that "There's nobody else to support anyway."
Ellery Debuts its First Denim Collection
Australian designer, Kym Ellery has debuted her first denim collection for her highly popular label, Ellery. The launch took place in concurrence with the brand's Autumn/Winter show in Paris this week and is creating quite the buzz.
"Denim is such an important part of any wardrobe; we wanted to introduce the denim as an elevated but still casual part of the collection," said Ellery on the brand's expansion.
Read: princess wedding dresses uk
The five-piece range offers the same style aesthetics as the rest of the brand in a more relaxed package, including Ellery's signature flares applied to jeans. Featuring detailed top stitching and gold-plated Swiss hardware, the range is made from quality Turkish and Japanese denims. Prices will range from $690-$890 with the collection becoming available in September from Ellery's online store