Questo comunicato è stato pubblicato più di 1 anno fa. Le informazioni su questa pagina potrebbero non essere attendibili.
Premier Gladys Berejiklian has followed in the footsteps of former Prime Minister Julia Gillard and posed for a fashion spread in The Australian Women's Weekly.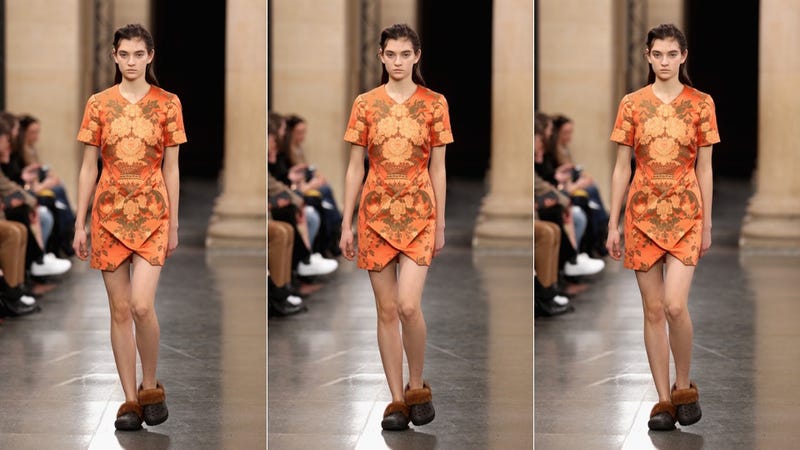 Unlike Gillard and that infamous knitted kangaroo cover, the Premier ensured the props were kept to a minimum and, like her federal Liberal colleague Julie Bishop, provided creative and styling assistance on the shoot.
Berejiklian chose to wear a black dress by her close friend Carla Zampatti in the shot obtained by Fairfax Media. She also turned down a Giorgio Armani ensemble that had been borrowed for the shoot, instead preferring to be photographed in her own pink jacket bought from fast-fashion chain Zara.
The new Premier arrived on set with "a swag of clothes", including a yellow Country Road dress.
Guess fuckin' what? THEY'RE BACK on Kane's Fall 2017 runway, this time SANS rocks but PLUS furry trim. Do you think you can handle it? Does the bear claw/house shoe vibe intrigue or repulse? Have we moved too far into, or too far past, the ugly-shoe vortex for any of this to matter?
It certainly takes a specific kind of strong dresser to pull these off, though I'm more interested in their contrast to the other shoes in the collection, which are pointed, strappy winklepickers that DEEPLY intrigue my new-wave leanings (as do most of the garments, which seem to have been inspired by Andie from Pretty in Pink), but also act as a cheeky response to those who might have deemed his Crocs too hideous to fuck with. The opposite of a comfort shoe is one that literally binds, or at least mimics the binding, so what do we want? Will we ever be happy? Also, BLAINE, HIS NAME IS BLAINE?
See More:AdoringDress.co.uk